I was at a dinner party last night, and the chat was fantastic. In one brief lull, our host picked up a dessert spoon and said, "Imagine that this was worth $100,000,000. You get it right now. What would you do?"
Sitting around this table was a bunch of great people – including medical professionals and business owners. They are the ones who have made it – or, at the very least, are making it. And yet this simple question brought out a truth that almost all of us shared.
Each of us saw the gift of more money as a way of breaking free from the stress of life. We talked about investments, trips, charities, adventure, travel and presents. We chatted about the freedom we'd have. And we talked about the restrictions we were currently facing.
See, everyone at the table was doing well at life. They were earning money, buying homes, running businesses, and influencing their communities. And yet they felt trapped by this – by mortgage payments, business stress, community pull.
And the answer we all went to was more money.
It's funny – we know that money doesn't buy happiness. We know that – beyond a certain amount – research has told us that additional wealth doesn't bring any greater satisfaction to life.
And despite our knowledge of this – we still see it as a gateway to freedom.
Funnily enough, I came across a familiar Bible verse in my reading today. Paul writes to a small, fledging church in Ephesus, and says, "Now to him who is able to do immeasurably more than all we ask or imagine, according to his power that is at work within us…"
I've come across that verse countless times before. It's a goodie – one that people would put up on their fridges, use as computer wallpapers, and turn to in times of stress. It's encouraging; it lifts our heads up – it makes us dream about what God could do.
See, when I read that tantalising phrase – "immeasurably more than all we ask or imagine" – I begin to dream big. I dream of wealth, power, success and fame. And then I think – "God can do more than that! More than I can imagine! The biggest stage, the largest bank-account – God can do more!"
But what if God's more is actually less? What if Paul isn't talking about health and wealth – but something more than that?
Because, for God to make me rich and able to enjoy that wealth doesn't take a huge amount of imagination. But for God to enable me to be content with little – now, that requires a whole lot of God's power!
When I think of God's power at work, I don't usually think of the wealthy and healthy. Instead, I think of our friends who up and left a successful New Zealand life to start a medical clinic in the dangerous region of Southern Sudan. I think of them with their three young children, in an area where conflict and disease are constant threats – and I think of their amazing joy that surpasses their situation.
I think of the lady I met at Alexandra Baptist on Sunday. She told me that she was going to die soon – and said it with a sparkle in her eye. She told me that her health was spiralling down, but her heart was spiralling upwards. She spoke with an ineffable joy about the goodness of God, despite her obvious pain.
And, I think of Paul – the writer of these words. Someone who lost money, lost social standing, and lost health as he followed Jesus. And yet, as he did this, he found a deep joy and a lasting contentment that was greater than anything he had previously known.
This is our challenge. Not that God will work within our imagination – but that God would work immeasurably more outside of our imagination. We can imagine a person happy with their riches – but God can imagine someone delighted with poverty. We can dream of people content with their health and social status, but only God can envision someone praying forgiveness and peace as they are stoned to death for their faith.
In the quotes of Christian author and mystic Brennan Manning, "May all your expectations be frustrated, may all your plans be thwarted, may all your desires be withered into nothingness, that you may experience the powerlessness and poverty of a child and sing and dance in the love of God who is the Father, Son and Spirit."
First published April 10, 2018 on www.jeremysuisted.com.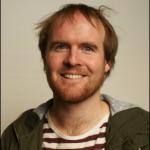 Jeremy Suisted is from Cambridge NZ a Creative Consultant and was once voted in the Top Six Waikato's Hottest Muffin Bakers.