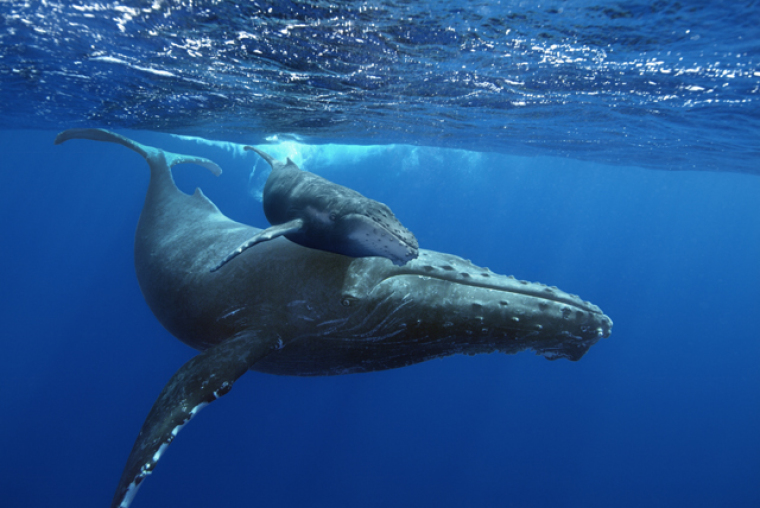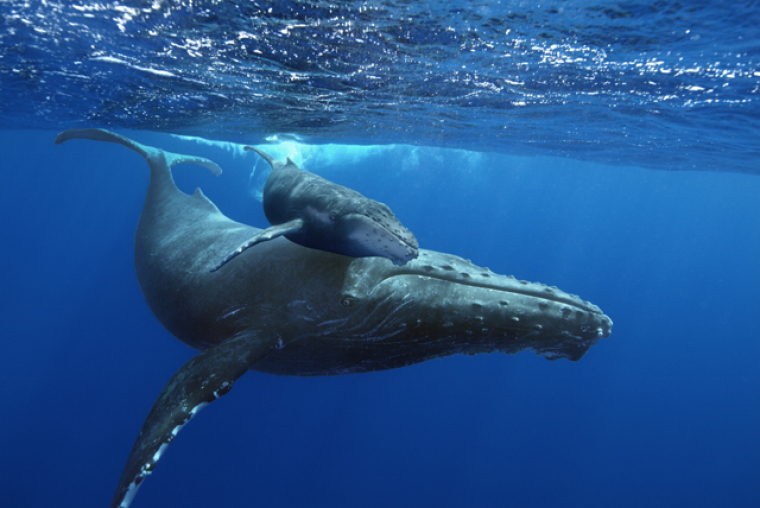 Where whales are legends.
In her article "The Power of Compassion", Elin Kelsey writes about a surprising aspect of one of Earth's largest creatures, the humpback whale.
While whales are stereotypically known for being protective of their own, Elin documents a more surprising element of compassion among humpbacks:
They protect other animals.
Numerous photographs and footage showcase the incredible efforts of humpbacks to save the lives of other whales, dolphins and even seals.
While orcas, or "killer whales", are notorious mafia of the ocean, the Captain America antics of the humpbacks are just as famous.
Interestingly, the humpbacks use their keen sonar to listen, not for the sound of a victim, but for the sound of an impending attack. As soon as the signal of a hunting pack of orcas reaches their radar, the whales surge to find the battle act.
The vigilante humpbacks will barrel into any fray, and they have been known to surround a victim in a protective circle or to lift a struggling creature onto their chests or backs for safety.
Often, they take disciplinary measures into their own flippers, actively circling, shoving and intimidating the perpetrators for hours.
Moral of the story: the humpback has your back. Every time.
Where witches are myths.
Meanwhile, on the island nation that is home to the diversely beautiful people of Papua New Guinea, orcas are the least of their concerns.
There's something deeply disturbing about knife and burn wounds on a tiny child's body – a child who was cruelly tortured for supposedly conjuring up a bout of malaria.
If you don't know about the Sanguma Accusation Related Violence (SARV) that is sweeping PNG, then you need to educate yourself. I lived there for three years, and one can't be there without knowing. I also know that this child's horrific story was one of the lucky ones.
She survived.
The reports of SARV are increasingly tragic and terrifying, but what's worse is this chilling and common thread:
The victim is always an innocent suspect of "sorcery".
Witches more real than whales?
It's important to note that the issue in PNG is not witchcraft, sorcery or any such thing at all.
There are no spells, wands, werewolves under the moon or whatever else you'd like to imagine. Nor are these killings occurring because actual magic has been legitimately recorded. In fact, sorcery (or "sanguma" as it is known in PNG) is so much a non-issue in this saga that it's almost laughable.
Almost.
The real issue is ignorance and fear. The real evil is hatred and greed.
Combined, they are a heady and destructive potion all on their own.
They cause the sufferer of measles to blame his neighbour for looking at him wrongly and making his illness materialize out of thin air. They cause a man whose son is in a coma, to blame his sister for eating the boy's heart and thus removing the "real" life from his still-breathing body.
The alleged "sanguma" are tortured to death. The sick die anyway.
The nation is drowning.
The wave of myth and terror around supposed "sanguma" has grown rapidly, and suddenly the mutilations and killings are everywhere.
Yet even more concerning is the country's response.
Social media praises the murderers for blotting out a "plague". Churches shake holy fingers of condemnation at the victims for their hypothetical association with black magic.
And the innocents – the ones who glanced up at the wrong moment or happened to walk past the wrong house – are systematically and gruesomely tortured for supposed crimes so bizarre, that the pious can only sniff that "sorcery is evil".
As if that was ever the problem in the first place.
But the worst part about PNG's endemic and senseless violence is this:
There are precious few humpbacks in these waters.
As I write this article from the safety of New Zealand, a post pops up on Facebook from one of my friends who lives and works in PNG: "Tonight we hear the report that three young men are accused and being tortured for "magically killing" another boy who died of TB. The next report from this village… may well be that the boys have been beheaded. Raise up champions, advocates, leaders who wield truth and wisdom. Bring down the lightning and rain, a flood of zeal that lasts a generation." (Anton Lutz)
He writes with the righteous anger of the humpback whale.
He also writes from a painfully small pod. Only a tiny handful of switched on human beings are standing against this ocean of mass hysteria and brainwashed brutality that is flooding PNG in waves.
Where are the whales for PNG?
Shame on the powerful who listen to the ringing cries of the hunters, yet see no reason to interfere in a playground of lies and murder.
Shame on the prestigious who hold means and money, yet stand by like a slippery octopus – multiple arms, yet never reaching out to help.
It's time to be humpback whale angry.
It's time for the powers-that-be to push back against the rumours and accusations; to halt the swelling of a frantic tide.
It's time for the hysteria to be slapped down; for the hunters to be stopped short on their misguided bloodlust.
It's time for the masses to protect not only their own, but to preserve the sacred breath of humanity itself.
It's time for the leaders to lead their own people.
It's time for the warriors to fight for every life.
It's time for the humpback whales to rise again.
Sorcery National Action Plan: http://www.stopsorceryviolence.org/the-sorcery-national-action-plan/
Full "power of compassion" article: https://www.hakaimagazine.com/features/power-compassion/
Further reading:
https://thediplomat.com/2018/01/why-is-papua-new-guinea-still-hunting-witches/
https://www.huffingtonpost.com/entry/papua-new-guinea-sorcery-killings_us_5a3a70a7e4b06d1621b0ebd0
https://www.abc.net.au/news/2017-10-29/png-upsurge-in-sorcery-related-violence/9095894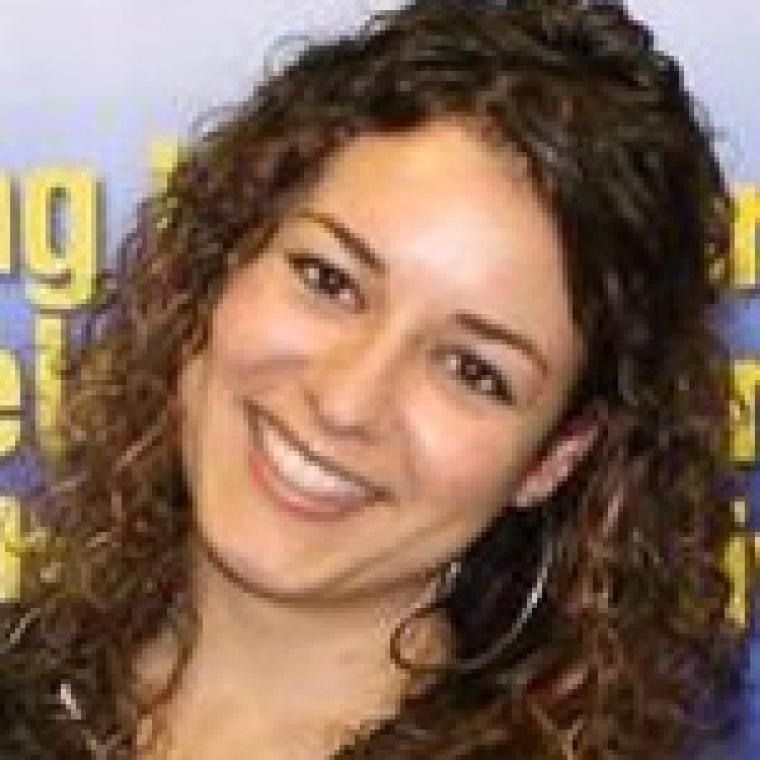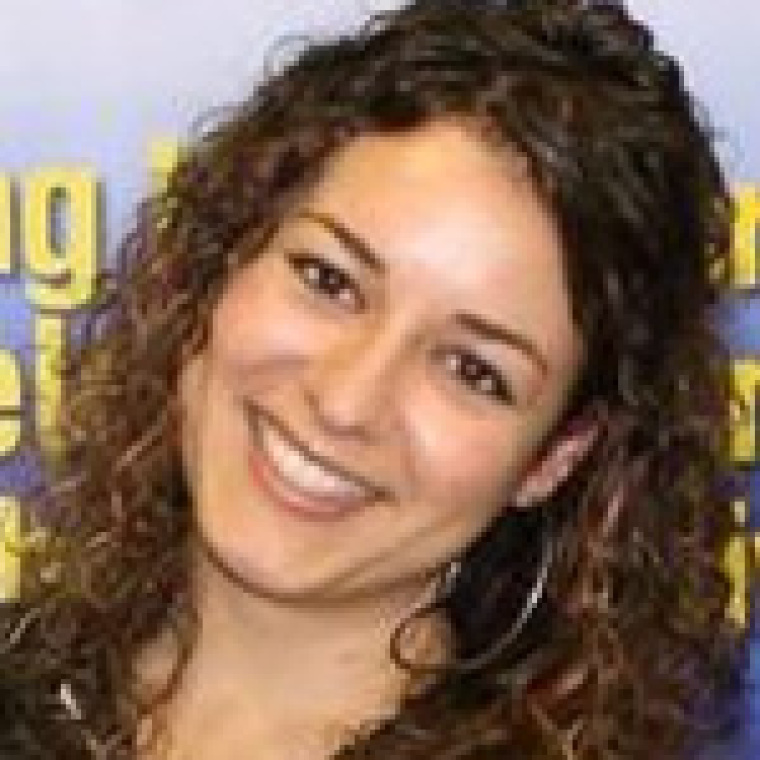 Emma is an Italian-South African with a New Zealand passport and an international heart. She spent years running a puppet ministry and directing student choirs, before going on to serve with Mission Aviation Fellowship in New Zealand (7 years) and Papua New Guinea (3 years). Currently a nomad living between various countries and towns, Emma's deep joy is in writing, music, hearing people's stories and finding God in unexpected places.
Read Emma's creative expressions at http://www.girlkaleidoscope.wordpress.com or follow her PNG adventures at www.pngponderings.wordpress.com
Emma's previous articles may be viewed at www.pressserviceinternational.org/emma-mcgeorge.html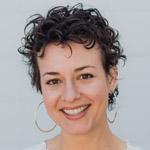 Emma is an Italian-South African with a New Zealand passport and an international heart. She spent years training student choirs and co-running a puppeteering business, before working for a humanitarian organisation in New Zealand (7 years) and Papua New Guinea (3 years). Currently a nomad living between various countries and towns, Emma's deep joy is in writing, music, cooking up an Italian storm, and taking time to listen to people's stories.
Read Emma's creative expressions at http://www.girlkaleidoscope.wordpress.com or https://pngponderings.wordpress.com/2016/09/02/finding-the-beauty/
Emma's previous articles may be viewed at www.pressserviceinternational.org/emma-mcgeorge.html