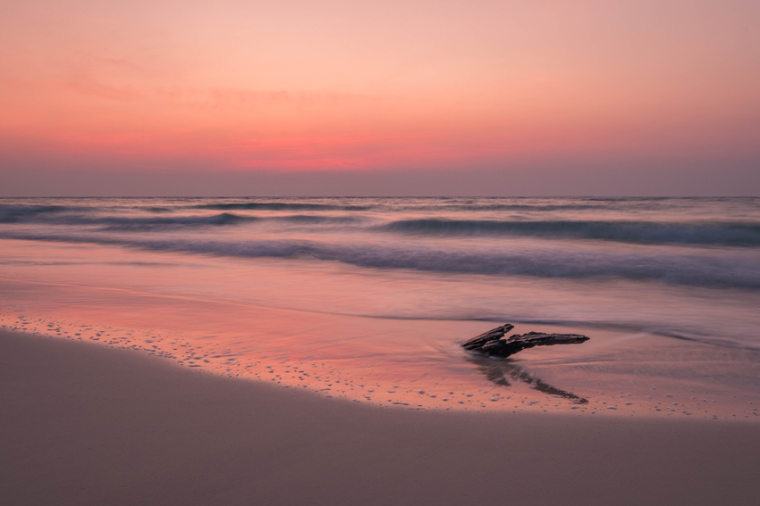 Too many days have passed where I've let my inward gaze rob me of joy. I've been so busy holding a magnifying glass up to my pain that I've been blinded to all of the good things surrounding.
It's too easy to fall in to self-pity and despair when we're having a rough time. But when we take our eyes off ourselves and abandon our morbid introspection, we can look to God and see some of the goodness that He has given us.
This past week has been a gift to my senses. My heart has delighted in His creation, His rich sprinkling of tender mercies throughout the days. By taking my eyes off of myself, I was able to rejoice in the miracles of the everyday.
Monday
On Monday I swam at the beach that I loved as a child. I protested as I felt my body being devoured by the shocking, arctic qualities of the Wellington salt water. My body numbed to the chill and I relished my freedom in the sea's own swaying body.
I was torn by the temptation to scour the floor for crabs and jellyfish and the alternative, to throw caution to the wind and trust that if God ordained that I be maimed by crustaceans, then He did. In the thrill of being embraced by the glorious blue, I went with the latter, forgot my cares and met each wave with joy. I had forgotten how good it felt to dance around in this majestic pool. How novel, how wonderful, to be immersed in water, whilst outside, beneath the open sky, to be so exposed to the elements, to be submerged.
I have friends in America who have to drive more than seven hours to find a beach. This concept is unimaginable to me; I am so thankful that I am always only minutes from the coast.
Tuesday
On Tuesday, after a return visit to the waves, I met my friend at the popcorn bar at the cinema. We got tickets to The Revenant and went and found our seats.
Nothing had prepared me for the gory scenes in the film, but I think the girl three seats down from me felt the same. She threw up in her popcorn bag. I was thankful I did not.
Less gory and more magical was the natural lighting that the movie was filmed in. The sheer beauty of the scenery had me in absolute awe of Creation. Glancing at the screen that placed me at the foot of hundreds of colossal pines, looking up, I was tiny, and His works were great. My mind was carried away by the rivers and trees of American, Mexican, Canadian and Argentinian landscapes. It was comforting to be reminded of how big the world is and how very small I am. Perspective, it's a heck of a thing.
We got Turkish food for dinner afterward. The air outside was warm, which is not the norm for Wellington nights. Lots of people were still bustling about the city and I felt glad to be alive and out there with all of them.
Sometimes when you're going through something hard, you cannot manage to see past it (not that we possess this ability when circumstances are easy, but you know what I mean here) and you forget that there will be humid evenings in the summer where your friend will use her free cinema tickets to see a stunning film with you. You lose sight of the seaside and the feel of the water on your skin. You can't think about lamb salad with olives and hummus, the Turkish scarves draped around hanging lights at this cute restaurant or the sarcastic humour of your friend over dinner. All of these things were yet to come, these moments yet to be had.
Wednesday
I walked around the south coast of Wellington for an hour and a half with a friend. In the sand and rock, under the sun and against the fierce winds I walked. My eyes were again opened to the miracle of His design. The seaweed rallied in the shallow pools, the shore was a spread of driftwood, rampant like wild sweet peas. Salt in the air that whipped gravel at the knee, Wellington wind alive and well.
An old couple rested on a boulder, looking out to sea, their canes in hands as they smiled and I smiled back, silently proud of how far they'd tracked in the conditions.
That night I ate Pita Pit in my car with a friend I used to work with. We hadn't seen each other in years and now here we were, eating dinner in a parked car overlooking the sea, exchanging stories we'd accumulated over the years. We watched the tide come in and the sea gulls hang glide in on the breeze as we talked right through the last hours of daylight.
Conversation does not always flow so freely with someone after much time spent apart. I was thankful that we could talk so openly and that my past heartbreak could comfort her in the midst of her own.
When I was in the midst of my own I never once suspected there may be a time when I would be grateful for it or that it might reassure someone else.
Thursday
I saw a friend that I made in my first lecture on my first day of university.
She was passing through the city en route to Auckland and we scheduled in lunch.
We laughed just like we used to as we relayed the pitfalls and triumphs of the past year. We reminisced about my first flatting experiences years ago that had made her own shared housing seem like a breeze.
I was glad to be sitting in a cafe laughing about such stories and no longer living them. Our conversation reignited my gratitude for no longer being a teenager. As much as I fall in to nostalgia, I thank God that I never have to be a teenager again.
Friday
I went for a bush walk with a friend and again felt small below tree trunks. The sunlight seeped through the branches, the forest floor golden with pine needles. Pinecones reminded me of crafts from my childhood and my enduring love of making things. I was also thankful for the strength to walk up the hills.
I had dinner that night at my friend's house. We first met in the playground when we were eleven and I was her bridesmaid two years ago.
We spent the evening with our high school friend who had us in hysterics as he described his staff Christmas party last month. We ended the night full of pasta and laughter and promised to see each other again soon.
I fell in to bed with a good book and a happy heart after the happy string of moments I'd enjoyed that week.
I must remember to cast my eyes on Christ and ask that they'd be opened to the ocean of His graces that I am constantly swimming in, even on the hard days.
First published February 11, 2016
Scarlett Jones resides by the seaside and loves reading, films, craft and quality time with friends and family.
Scarlett Jones previous articles may be viewed at http://www.pressserviceinternational.org/scarlett-jones.html