Now here is something that makes sense to me: if God created everything, then God is the source of all creativity. If God created humanity in God's likeness, and the whole mission of God is to make us more like Him, then it makes perfect sense that — to quote Erwin McManus — "creativity is the natural result of spirituality."
My friend Blue has this theory: if you started two groups, one group of people trying to be creative, and another group working on their spiritual formation, the group working on spiritual formation would be more creative.
It follows that the Church should be the epicentre of creativity — people, who are theoretically the most like God, should also be the most creative.
I have grown up hearing the call for Christians to be the lead creatives of the world, because salvation is expressed in the arts, but this is not currently the case. Perhaps we are not leading in spirituality either.
We have confused creativity with art and spirituality with Christian thinking.
So what is creativity?
Creativity is the ability to transcend traditional ideas, rules, patterns and relationships to create meaningful new ideas, forms, methods and interpretations. Creativity is originality, progressiveness, imagination.
Creativity is not art, but art uses creativity. We might do art on the weekend, but we don't 'do' creativity on the weekend. We do creativity during our lives. We might make money from our art from time to time, but our creativity is something that makes up our livelihoods, causes us to ponder on our problems and the potential solutions.
Creativity has led us into all the things we so easily take for granted: ice cream, smart phones, Instagram, jet planes, space travel, cars, boats, and bikes. Computers, Microsoft Excel and the Internet. Hand tools, power, and then power tools. The light bulb, the fishing rod, condoms and sex education. Libraries, shoes, and underwater museums. Glasses, wine, and glasses specially made for wine, glasses for reading, glasses for the sun, glasses for safety, and glass in general. Ladders, and grass seed. Arm casts, doctors, paramedics, ointment, lollipops, pain killers, and more flavours of ice cream. These things generally make the world better, or at least they make the world more fun!
Creative potential
However, we have the creative potential to not just make the world better, but also to make the world worse. We have the potential to create tastes of heaven, to create a mess, or even to create a hell.
In the beginning there was nothing but raw potential. As far as we know humans were not even shown how to make fire, all we had was the potential for it. We were created to explore, and to unleash this potential. But we have to choose to create with God, to unleash the good potential of creation.
The other option is to harness and manipulate creation for our own purposes, and when we harness creation for our own purposes, we often tend to make the world worse.
Somehow, tragically, humanity has become very creative at war. We have become skilled at destruction, and well-equipped at cutting down. It would seem that we have unlimited potential for the amount of pain that we can inflict upon the world.
God allows us to experience the consequences of our potential; not stepping in when gas replaces the air in chambers filled with people waiting for a shower; not stopping children being trained to massacre their parents; not standing in the way of engineers and scientists as they fabricate bombs.
Creativity is exploring our God-given potential; but God is inviting us to choose to use our potential to create a better world.
What is spirituality?
In the beginning we see a God who creates: materials like rocks and sticks, and gravity, and iron, and water. God also creates inspiration — sticks grow in beautiful forests, rocks come from great mountains, and water forms the powerful oceans and vast sandy shores.
God invites us to create something, to co-create, by saying 'have dominion over the earth and subdue it'. We are invited to co-create, to recreate — God has created and we are to join him.
Christian spirituality is collaboration with God, it is co-creating. It is a taking of your God-given potential, and using that potential to make the world better, to make it dance, 'to have dominion' over it.
Romans chapter 8, verse 19 says, 'all creation waits eagerly for the sons of God to be revealed'. Why? Because we will team up with God and make something great!
God of the inklings
God invites us to create a better world.
I believe He has planted inklings in our hearts, as little snip clips of what we could create in the world. These inklings often seem insignificant, silly, or impossible, but a true creative venture is walking toward these things.
These inklings, these dreams, show us pictures that resonate in our heart, and point us toward the potential of the Kingdom. We are invited to step out in faith toward these vague and non-concrete inklings, and to create something that creation longs to see.
Every walk of discipleship is simultaneously a walk of creativity. It is important to become attune to our hearts inklings, and to not only believe in them, but to step toward them.
What are your inklings?
First published September 16, 2015
Jared Diprose is a self-employed Artisan and co-director of the Mosaic Workshop. He has a degree in Theology, and believes that words shape worlds. He is married to Sierra. You can see some of his work at www.facebook.com/jareddiprosecreative and you can check out The Mosaic Workshop at www.facebook.com/workshopmosaic
Jared Diprose's previous articles may be viewed at http://www.pressserviceinternational.org/jared-diprose.html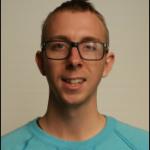 Jared Diprose is a graduate from Carey Baptist College in New Zealand. He has been a youth pastor, and currently is working as a freelance contractor. In his spare time, he makes surfboards.
Jared Diprose' previous articles may be viewed at http://www.pressserviceinternational.org/jared-diprose.html