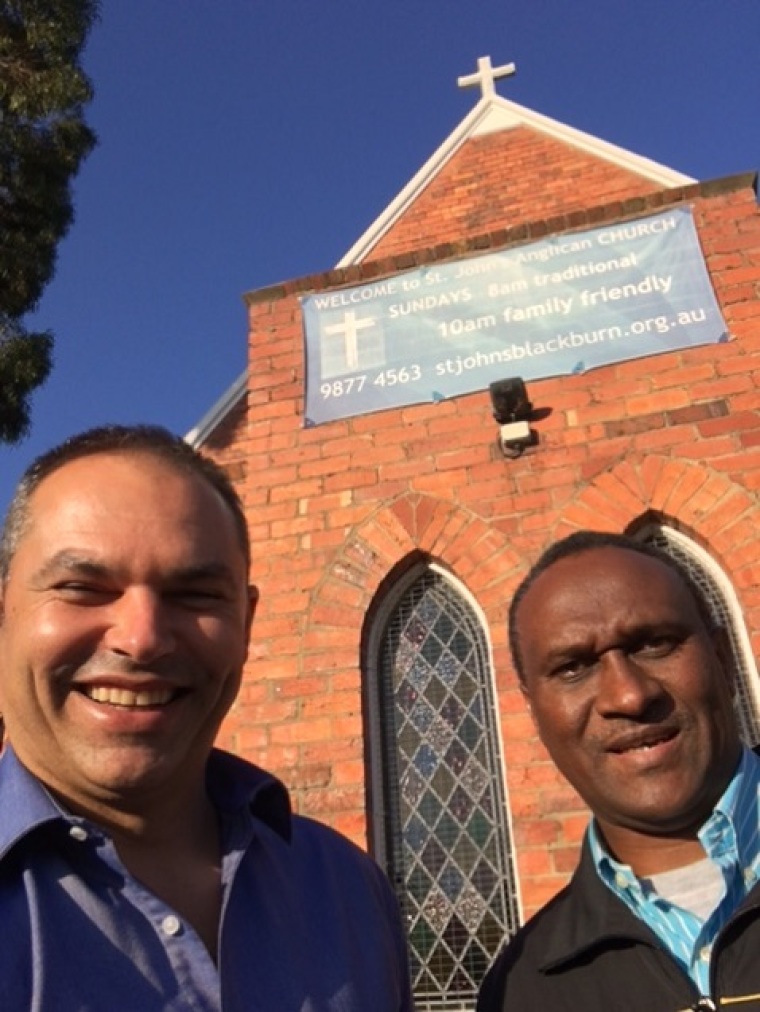 This is the story of the ministry tour of Rev Dr Stephen Mbogo, International Team Leader/CEO African Enterprise and Ben Campbell, Executive Director AE Australasia.
In a time where people are increasingly feeling disillusioned by threats to Christian freedom and growth, Rev Dr Mbogo comes to Australia with a message of hope of the great power of God in bringing 98,000 people to Christ in Sub Saharan African through the ministry of African Enterprise (AE) last year.
On Sunday 29th April, the African Enterprise ministry tour commenced in Perth Western Australia, to encourage a supporting, mission-hearted Baptist church with news of the impact that they have made in Ethiopia through the student discipleship program run by AE Team Leader Mel Mesfin. 
This discipleship program, which aims to impact 20,000 secondary and tertiary students every year with bible and ministry training, is a church partnered program running through July-August in 100 cities in Ethiopia.  In a country ravaged by civil unrest and state of emergency conditions, AE aims to shape new generations of young people to ensure a strong and healthy church in the future.
On Wednesday 2nd May, Stephen spoke with the Christian Media and Arts annual conference in the Gold Coast, about how AE engages African media with the Christian story during mission periods in Africa.   The AE mission, which aims to bring thousands of people to Christ every year throughout Sub Saharan Africa and the North, has many significant testimonies of the grace of the Lord Jesus Christ that can be shared in both mainstream and Christian media. 
In subsequent weeks, Stephen has preached at churches in Sydney and Melbourne, as well as in many homes of supporters. Topics have ranged from the training of pastors, reaching the Muslim north, discipleship of new believers and the various development programs that are in place to support the major 10 African missions. 
The key message to the Australian community is be encouraged! The Lord is powerfully at work in Africa thanks to the prayers and support of His people here in Australia.  God will triumph over all evil, and please pray that the Lord would open the heart of everyone in Australia to hear God's message of salvation and His reconciling love through the sacrifice of Jesus Christ.  
The ministry of African Enterprise has been in place for 57 years in Africa and 40 years in Australia. Ben Campbell is the Executive Director of Australasia, and works closely with the African teams and supporters here in Australia to see many more thousands transformed by the grace of God every year in Africa. There are also many encouraging testimonies of Australians coming to Christ through the evangelistic work of many AE leaders over these 40 years. More details of the missions ahead can be found on africanenterprise.com.au. If you have a heart for Africa, please keep us in your prayers and support.