August 2021 was going well. Here in New Zealand we'd weathered the COVID19 storm quite well. Life was relatively normal, the elimination strategy adopted by our government was by-and-large working. Of course, there was opposition to some of the restrictions that we were living under, but no country escapes opposition to government direction.
On Tuesday, 17th August 2021, I'd just finished presenting a seminar to pastoral leadership students at Carey Baptist College and had been out to lunch at a local [full] café to discuss the conclusion and graduation of a student I'd been supervising. Getting into my car at 2pm I turned on the news to hear that a press conference was being hastily arranged for 4pm – we were quite used to this occurrence and generally knew what this would mean.
At 11.59pm that night New Zealand was plunged back into a Level 4 lockdown, the harshest form of lockdown under our COVID19 response frameworks. One case of the delta variant had been discovered, not far from where I live.
My immediate response was to look heavenward and ask, When will this all end?!
COVID fatigue
I'm not the only one who feels like I've got a case of COVID Fatigue. As a local church pastor, we've been pivoting and changing our operating systems for over 2 years now. We've cancelled many things, we've taken a lot of things online, we've come back to normal and gone back to abnormal. I've personally planned holidays and cancelled holidays. Every day feels like Groundhog Day as we wait for the 1pm news briefing and guess what the next week might look like.
As I write this, New Zealand is recording daily records in case numbers of COVID19 (Omicron). Our restrictions have recently changed and we've had to learn a the new language of Phase 3 of the COVID Protection Framework 'red' setting.
Let's be honest, I'm tired. We're all tired. I'm tired of being tired. We're all tired of being tired.
When will this all end?!
God knows
It might sound a little like a cliché, but God knows.
When I was training for pastoral ministry and learning the rigours of theology, I was introduced to the omniscience of God. It was a big word to me, a new word. To translate it into everyday English means, God knows everything. One source of the attribution of omniscience to God derives from the numerous biblical passages that ascribe vast knowledge to him.
The omniscience of God was a hard word to learn and its meaning even harder to grasp. Trusting that God does know all things raises lots of questions of which the answers are still hard to find.
But God does know when it will all end. Actually, He knows when everything will end!
The waiting is the growth point
When we care to open our eyes and our hearts to them, there are many passages in the Bible that talk about waiting. Here's a random trinity of passages:
·      Isaiah chapter 40, verse 31: But they who wait for the Lord shall renew their strength; they shall mount up with wings like eagles; they shall run and not be weary; they shall walk and not faint.
·      Psalm chapter 27, verse 13-14: I believe that I shall look upon the goodness of the Lord in the land of the living! Wait for the Lord; be strong and let your heart take courage; wait for the Lord!
·      Psalm chapter 130, verses 5-6: I wait for the Lord, my soul waits, and in his word I hope; my soul waits for the Lord more than watchmen for the morning, more than watchmen for the morning.
I could go on.
The lesson
I don't know when the season known as COVID19 will end.
I don't know when the life I enjoyed at the beginning of 2020 will return.
I don't know when masks won't be a part of ordinary life.
I don't know when Christians will be able to agree to disagree over things that ultimately aren't that important.
I don't know what tomorrow will hold, let along what next week will be like.
But what I do know is my character is stretched and that I grow into more of who God wants me to be when I learn the discipline of waiting on the Lord.
I know that my strength is renewed when I have the faith to trust that God will lead me through this season and that these times help me press into Him.
I know that when I wait for the Lord and trust him with my today and my tomorrow, then I grow in strength and my courage increases.
I know that there will be a morning when these days shall pass and what I've learnt in these times will equip me with what I need for the next season.
When will this all end?
So, when will this all end?
I don't know, and as a follower of Jesus, I really don't need to worry about that. I'll wait on the Lord and allow Him to lead me home.
How about you?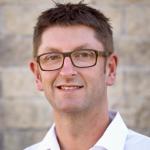 Grant Harris is the Senior Pastor of Windsor Park Baptist Church in Auckland, New Zealand, a church that was planted 65-years ago and comprises people of all generations seeking to reach a community that consists of people of all generations. The tagline of Windsor Park is 'doing life and faith, together.' Grant can be contacted at grant.harris@windsorpark.org.nz.