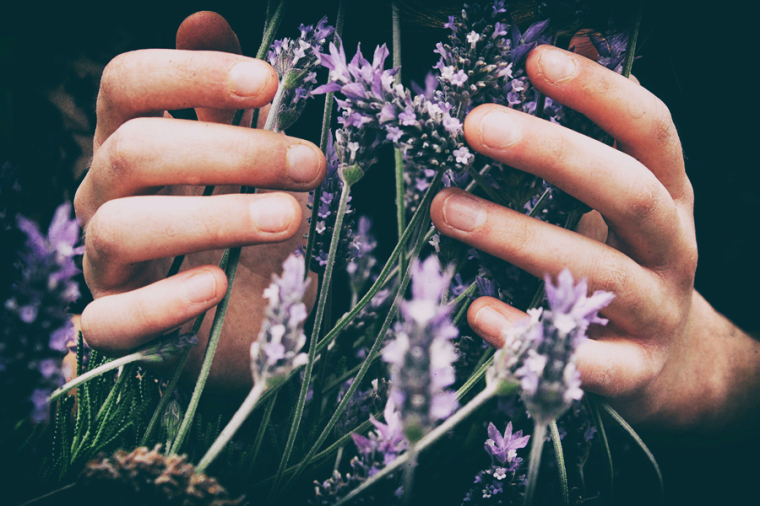 Lavender has always been my creature comfort. Its oil is a nostalgic, fragrant sense of relief. I smell it and my neurotransmitters go to their happy place. I put it on my pillow every night, I use it in an oil burner, I add it to my bath and I have it in my face wash.
It's like an all-embracing hug from my mother, who lives abroad and can't be here to hug me, or to be diluted in my face wash.
A mug of hot milk can do wonders too. Late at night. Heated on the stove top, with a spoonful of honey and a sprinkle of cinnamon. Liquid nurture before the land of nod. To soothe the scars that the day has singed. To create a sense of fullness to combat an empty feeling.
Listening to Bon Iver can have a similar effect on me too. Their gentle, yet emotionally-satisfying songs. Listen to Holocene while you read this. You'll see. It casts illusions of driving fast on the open road in summer time. Past green fields of long grass, in the sunshine. Windows down, wind in your hair and the sense that all is well. If that doesn't get you, try Blood Bank.
The world is not enough
But there is only 10ml of lavender oil in a bottle. Milk goes sour. There is a chance, too, that Bon Iver might break up one day because Justin Vernon wants to be a stay-at-home dad.
It's life and it doesn't tread lightly. Life is hard. We yearn for comfort, we long for our souls to find rest. We find ourselves lying in bed, feeling like we want to go home. We seek escape in the page turner that we're half way through. We want to get lost in the latest episode of that series. We like to take 'the edge' off with a beer. To drown out the day with a hot bath, after our comfort in the form of carbs. We're always searching for it somewhere.
In Christ alone
But only Christ can satisfy the soul. Only our Saviour can bring true comfort. Only the Word of God endures forever, my friends.
So where do we go, when we are tired and sad and wishing we were still in the womb? Matthew chapter 11, verses 28–29 tells us to go to Christ in the face of suffering, in all our weakness, that He will give us rest. "Come to me, all you who are weary and burdened, and I will give you rest. Take my yoke upon you and learn from me, for I am gentle and humble in heart, and you will find rest for your souls."
If we have had a stressful day at work, we can rest in Christ. If an important relationship is strained, we can rest in Christ. If we are uncertain about what to do, we can rest in Christ. If we feel abandoned or forgotten, we can rest in Christ. If we are smothered by fear, we can rest in Christ.
If all seems impossible and the thought of getting through another day grieves us, then too, can we find rest in Christ. For He knows our burdens and we are to cast them on Him, knowing well that He will sustain us (Psalm 55, verse 22).
May we rest in the Lord as we persevere in His strength. May our comfort lie not in our absent mindedness as we consume worldly pleasures, but in the very promises and presence of our Father who awaits us in Heaven.
First published November 7, 2014
Scarlett Jones resides by the seaside and loves reading, films, craft and quality time with friends and family.
Scarlett Jones' previous articles may be viewed at http://www.pressserviceinternational.org/scarlett-jones.html