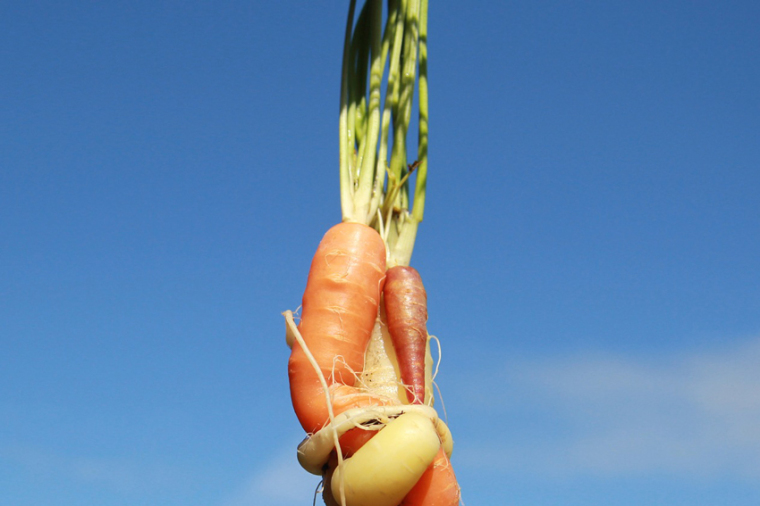 I hold it in my hand, lumpy and unapologetically orange, hairy with roots and clad with dirt. It's sprouting at the top with small lime green shoots. They speak of hope for another life. Its two tendrils are gnarled, as though frozen in time while squirming to escape my grasp.
This is a B grade carrot. You will seldom see this in a supermarket. This carrot has been deemed unsuitable for respectable tables and must be dealt with behind closed doors; carefully washed, inspected and operated on before it is transformed into processed goods such as juice. In this bright factory kitchen I get to see many of such carrots, and I eliminate these weird and wonderful forms, grating them to produce a fermented condiment.
I am washing carrots in a sink, and it is a repetitive and abrasive process, not a gentle one. Yet it is intimate in its own way, as I remove the dirt and the roots, admiring the strange twists and blobs, dressing wounds and removing any small decay. It occurs to me that this might be palliative care for these unsung creatures that God has brought before me; that I might be both nurse and surgeon, both judge and executioner.
This is transformational work. This is the frugal person's dream, taking the seconds and sometimes thirds and making some use of them they might not have otherwise had, returning any waste to the earth to nourish the next crop.
I pause, confronted by this sculptural carrot, an organic Laocoön, and cannot help but wonder at the abundant creativity of Jesus, our creator. What a rich and spectacular world we live in, that no two carrots would ever be the same. That by the grace of God, carrots might persevere in the face of obstacles and objects such as stones. That food might be so obstinately colourful in excess of its function. How much imagination our Lord has! I briefly consider saving the more remarkable examples in a museum of carrot splendour before continuing with my task.
All I really wish to say is that lumpy carrots deserve more attention and affection, and I wish you a similar experience of being led to praise our Creator by something as humble as an ugly carrot.
We could talk for days
However, because some of us are uncomfortable with simple pleasures, let's talk about aesthetics: Greek idealism, Japanese Wabi Sabi, and body image. Or let's talk about food waste and the largess of western markets that literally throw tonnes of food away. Let's talk about thankfulness and contentment and greed.
Let's talk about stony soil and drought and the best environment for people to grow up in so that they can flourish. Let's talk about the poor and downtrodden, the outcasts and oddballs of society. Let's talk about the grace of God toward us who have so many blemishes, who have become twisted and scarred. The grace that shows itself in the Lamb who takes on our gnarly sentence from God the judge and is glorified eternally as the one scarred, slain for many.
I hope you don't think it's all too ridiculous. After all, Isaiah writes in chapter 55 verses 12 and 13:
You will go out in joy
    and be led forth in peace;
the mountains and hills
    will burst into song before you,
and all the trees of the field
    will clap their hands.
 Instead of the thornbush will grow the juniper,
    and instead of briers the myrtle will grow.
This will be for the Lord's renown,
    for an everlasting sign,
    that will endure forever.
Wonder leads to worship
We could talk about all manner of things. But leave that for now. Wonder, if all is in right order, leads to delight in God, leads to praise, leads to unity as we worship together. Perhaps the right thing to do when we encounter something as mysterious and wonderful as a deformed vegetable is to lift our voices in song.
All creatures of our God and king
Lift up your voice and with us sing
Oh praise him! Alleluia!
Thou burning sun with golden gleam
Thou silver moon with softer gleam
Oh praise Him! Oh praise Him!
Alleluia! Alleluia! Alleluia!
Let all things their creator bless
And worship Him in humbleness
Oh praise him! Alleluia!
Praise, praise the father praise the son
And praise the Spirit three-in-one
Oh praise him, oh praise him
Alleluia! Alleluia! Alleluia!
Praise God from whom all blessings flow
Praise him all creatures here below
Praise him above ye heavenly host
Praise Father, Son, and Holy Ghost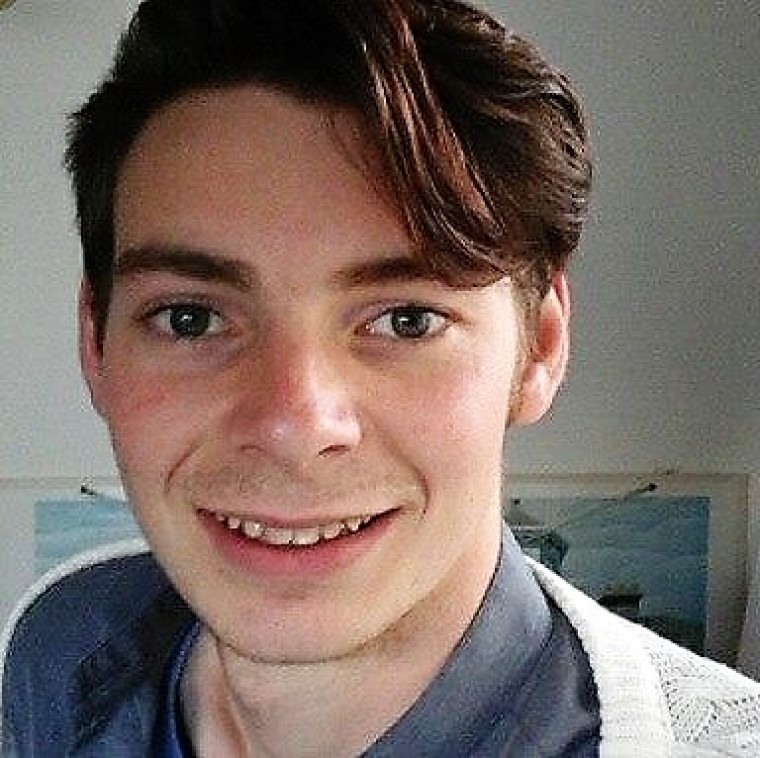 Matthew Joils is a contemporary artist based in Otautahi, Aotearoa. He makes sauerkraut and burgers and grows flowers and sometimes even makes art.
Matthew Joils' previous articles may be viewed at http://www.pressserviceinternational.org/matthew-joils.html